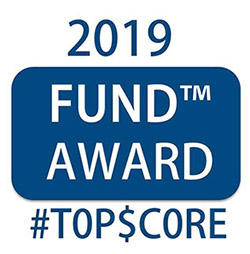 FRANdata and Franchise Update Media wish to congratulate the two #TOP$CORE FUND awards recipients who were announced at this weeks Franchisor luncheon at the  Multi-Unit Franchising Conference.  One was awarded to Zaxby's for the food category and another to Urban Air Trampoline Park for the non-food category.
The 2019 #TOP$CORE FUND award is given to one food and one non-food brand attending MUFC with the highest fund score that also demonstrated a commitment to simplifying the financing process for lenders.
The FUND scoring system is embraced by banks of all sizes that collectively represent over a trillion dollars in assets.  Even regulators have acknowledged the importance of FUND scores as a credit risk monitoring tool for banks.  This award was created to highlight those brands who have risen above their peers by simplifying the financing process which has proven to translate to a lower cost of capital and better financing terms for franchisees.
The awards were presented by Edith Wiseman, President of FRANdata, and was accepted by Tray Doster, Director of Franchise Sales at Zaxby's, Michael Browning, CEO of Urban Air Trampoline Park, and Scott Perry, CFO of Urban Air Trampoline Park.
Link to Urban Air Trampoline Park's Press Release Here