Every crisis creates brand winners and losers. This one is no different. Eventual brand winners will be those that best understood the long-term implications during the crisis and reimagined their businesses from the ground up. I'm not yet prepared to forecast the winners, but I can raise some questions that might help multi-unit operators consider their next brand or industry to invest in.
Should you focus more on established or emerging brands? Reimagining from the ground up can lead to dramatic changes in offerings. This requires capital and the willingness to change. Many legacy systems won't (or can't) make the changes necessary to be in the winning column. Ironically, mature brands generally have more capital to make changes, while emerging brands have a greater ability to alter their models. As we saw after the Great Recession, new winners emerged and some became powerhouses. The next cycle is already underway. Let's look at some of the early indicators.
We surveyed more than 100 franchisors across a representative set of sectors (excluding hotels) in late summer and learned the following.
However, we know some sectors have been disproportionately affected in a negative way, especially in retail. From the same survey: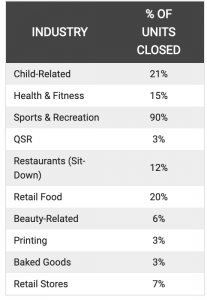 Sectors experiencing large business disruptions are most likely to experience dramatic changes in how their services are delivered. I will focus on fitness, reflected under Sports & Recreation. The fitness industry has essentially been shut down. Since people have been forced to find at-home options, a balance of at-home and in-retail offerings is the most they can hope for post-Covid. Sure, people will return to retail locations for workouts, but few are expecting a full return.
How will franchisors need to modify their retail models to reflect changes in consumer behavior that will be permanent? The at-home workout trend was under way long before Covid (e.g., Peloton), but it was developing slowly until every fitness buff in America was forced to find alternatives to "going to the gym." Mature brands had been investing in technology, but it was focused on what they already were offering: a retail experience, not the in-home market. Legacy fitness brands are now scrambling to accelerate their technology applications to keep customers interested and their brands connected beyond their retail presence. That's hard for mature brands to do, especially so for franchisees suffering through an extended shutdown.
From 2009–2013, we saw many start-up fitness brands come to market with creative new offerings that became very appealing to the rising Millennial market. These new brands were almost exclusively built on a retail model, trying to take a slice of existing consumer behavior. Is that model about to be disrupted by the next generation of fitness brands that balance retail with in-home or perhaps a non-food version of home delivery? That is very likely.
At the beginning of the last recovery, there was a land grab for prime real estate. Multi-unit operators led that charge. Will that happen again? We have a large swath of retail that is closed. In many locations, they may not reopen, at least not by the same tenant. Some fitness brands (especially those backed by PE) are preparing for that land grab. Are they missing a key consideration? How permanently have fitness consumers changed to make those prime retail locations less prime? Some of our clients are conducting research to understand what has changed before they rush to take advantage of weakened competitors. But perhaps weakened competitors may not be the set of competitors they should be worried about.
I see some parallels with the hair care industry after the last recession, when stylists, for various reasons, went out on their own. Brands like Sola Salon Studios and Salons by JC came into existence. In this crisis, we have fitness instructors with a following. And while their retail space is closed, some are staying involved using online tools. And along come companies like Zoom that enable a single fitness instructor to reach their loyal base. Will a fitness version of what we saw in the hair care sector unfold in fitness? You can bet some will try.
So before you commit to build a lot of units for that next brand in your portfolio, try answering some of these questions, which apply to almost every sector. And know that brand disruptors often don't look like competition… until they become dominant.
*This article originally appeared in Multi-Unit Franchisee Magazine Issue 4 of 2020. You can view it here.
Read more FRANdata commentary on the COVID-19 pandemics affect on franchising here.